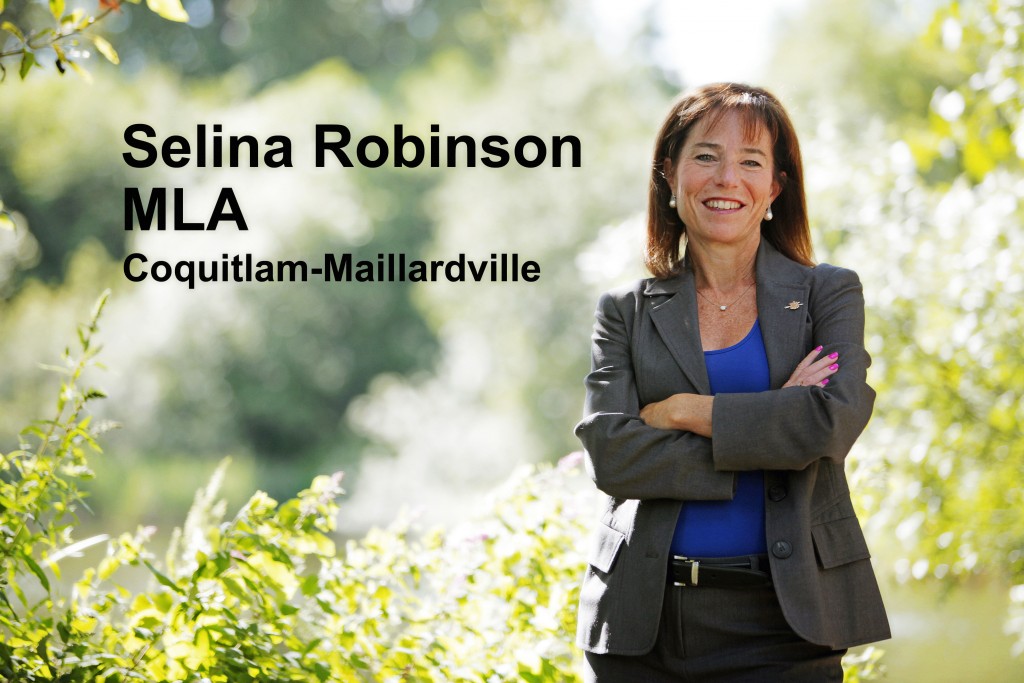 July 2016 E-Newsletter
I am so glad the summer weather has finally found its way to Coquitlam.  While I had hoped things would have slowed down this month, that hasn't quite been the case.
Here's a bit of what I have been up to this past month:
In the Community
I had the opportunity to meet with new immigrants at SUCCESS' Language Instruction for Newcomers to Canada program (LINC). I met a number of students in the program at the pre-Canada Day picnic and was subsequently invited to a number of classes later that week to talk about the three levels of government and the role of democracy in Canadian society.  The students asked interesting questions and were excited to learn about the role that a Member of the Legislative Assembly has in making laws for our province.
Canada Day
We had a fabulous time at the Canada Day celebrations.  The Canada Day tattoos we gave out were a big hit with everyone.  At this year's event we also celebrated Coquitlam's 125th anniversary and the official opening of the Town Centre Park Plaza. I hope you had a chance to take in some of the activities around town and enjoy some downtime over the Canada Day long weekend.
I have had the opportunity to meet with friends and neighbourhoods at a number of Coquitlam 125 block parties throughout the community.  It's been great to see people connect with their neighbours.  I believe when we are connected to our communities and neighbourhoods we are more resilient and richer as a result of these relationships.
I won't be able to attend this year's Vancouver Pride parade so I opted to check out the annual Pride event held earlier this month in Abbotsford.  The energy and activity was awesome.   It was also great to see our government finally acting on my colleague, Spencer Chandra Herbert's Private Member's bill (Human Rights Code (Recognition of Gender Identity and Gender Expression) Amendment Act, 2016) to include gender identity and expression in British Columbia's human rights code.  Spencer has had to introduce this legislation four times and I am pleased the government has finally recognized the value of this legislation.

I spent some time on the road this month as a member of the Standing Committee on Health.   We heard over 60 presentations from British Columbians and from those delivering health services.   You can learn more about the committee and what we heard here.
In the Legislature:
The Legislature was called back for a short summer session so MLAs headed back to Victoria this week to debate a bill that will permit the City of Vancouver to enact a tax on empty homes.  You can learn more about this legislation here.
Upcoming
I will be at the Korean Cultural Heritage Festival Saturday, August 6th at Swangard Stadium.  Come on down for some fabulous Korean food, music and culture.
On August 31 I will be joining my Divas, Polly Krier and Diana Dilworth, to present the Coquitlam Farmers Market 20th Anniversary Long Table Dinner.  Proceeds from the event will go to support the Power of Produce children's agricultural program at the Coquitlam Farmers Market.  You can buy your tickets here.
The 55+ Games are coming to Coquitlam this September.  Games organizers are looking for volunteers.  I spoke about the 55+ Games in the legislature and you can learn more about how to get involved here.
July 25, 2016 Statement

The 55+ BC Games are less than two months away. Let's show British Columbia what a welcoming, helpful and supportive community we have in Coquitlam.
If I don't get to see you at one of the community events around town, feel free to come by my office to say hello.
Until next time,
Selina
Volunteer with the Office of the Seniors Advocate of BC

On May 9th, B.C. Seniors Advocate Isobel Mackenzie announced the launch of a province-wide survey of residents living in publicly-subsidized care facilities in BC. The Office of the Seniors Advocate will be reaching out to an estimated 27,000 seniors and their families to get feedback on the quality of their residential care and accommodations.  Please call 1-877-952-3181 if you would like to volunteer to interview seniors about their experiences.  For more information visit surveyBCseniors.org.  Please feel free to share this information with anyone you feel may be interested in volunteering their time.
---
Community Events
15th Annual Korean Cultural Heritage Festival
The 15th annual festival celebrating multiculturalism in the Lower Mainland, which showcases Korean heritage through cultural performances, food, and entertainment.
Saturday, August 6, 2016
10:00 am to 8:00 pm
Swangard Stadium
3883 Imperial St., Burnaby
---
Coquitlam Farmers Market
Head down to the Coquitlam Farmers Market for a morning of games, music and food! The Coquitlam Kinsmen will be there preparing a delicious pancake breakfast.
Sunday, August 7, 2016


9:00 am
Poirier Street Farmers Market
624 Poirier Street, Coquitlam
---
Sunday, Aug. 7th   1:00 pm – Tree Tour
Sunday, Aug. 21st: 1:00 pm – Heritage Walk – BMN & RHCS
Open to the Public and FREE.
---
The John B Neighbourhood Pub is hosting its 2nd annual Car Show.  All the proceeds will go to KidSport Tri-Cities.
Sunday, Aug. 14, 2016  
9:00 am to 4:00 pm
John B Pub – Parking lot
1000 Austin Avenue
Coquitlam
---
Join the Three Divas, Selina Robinson, Polly Krier, and Diana Dilworth for an evening of delicious local food & great conversation.  Funds raised go to support the Coquitlam Farmers Market. Tickets: $75
August 31, 2016
6:00 pm to 9:00 pm
Colony Farm Regional Park
Colony Farm Rd.
Port Coquitlam
---
The walk begins at noon but come early to register and enjoy fantastic entertainment and activities.
Sunday, September 11, 2016
Registration: 10:30 am
Walk begins at 12:00 pm
Lafarge Lake
1299 Pinetree Way (across from Douglas College)
Coquitlam
---
Games, crafts, music, food and a farmers market.
Saturday, September 17, 2016
12:00 pm to 4:00 pm
Blue Mountain Park
975 King Albert Ave.
Coquitlam
---
Sunday, September 18, 2016
Registration: 9:15 am
Run Start: 10:30 am
Event End: 1:00 pm
Blue Mountain Park
975 King Albert Ave.
Coquitlam
---
September 20th to 24th

Sport specific competition schedules will be posted to the
55+ Games website
one week prior to the opening of the Games.
---
September 25, 2016
Registration: 9:00 am
Start: 10:00 am
Walk Distance: 2.5K
Lafarge Lake
1299 Pinetree Way
Coquitlam
---
Magnificent You Women's Conference
 Two packed days of women inspiring other women.
September 24th & 25th
Anvil Centre
777 Columbia Street
New Westminster