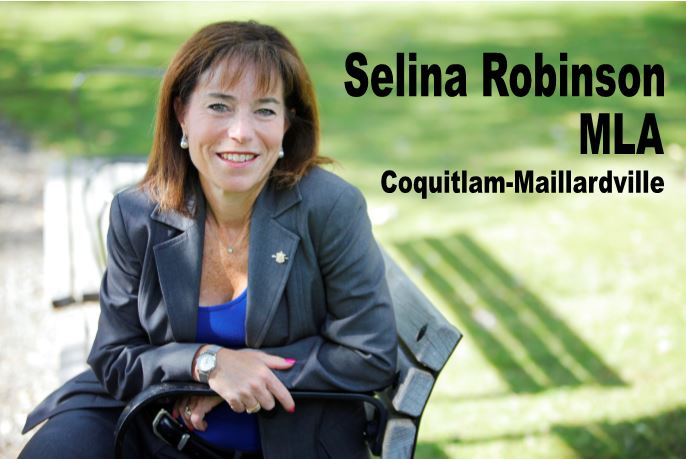 ---
---

In the Community     
                          
55+ BC Games          
The Coquitlam 55+ BC Games were a tremendous success.  My heartfelt congratulations to the organizers, the City of Coquitlam Council and staff and to all the athletes, judges, referees and volunteers.  With over 3000 athletes in attendance from across British Columbia there were, without a doubt, wonderful memories made here in Coquitlam.  It was an honour to represent the residents of Coquitlam-Maillardville at the games.                                                   
Housing Affordability Forum
Earlier this month I co-hosted a Housing Affordability Forum with Jodie Wickens, MLA for Coquitlam-Burke Mountain.  Our special guests were David Eby, MLA for Vancouver-Point Grey and Opposition Spokesperson for Housing, Coquitlam Councillor Chris Wilson and Sandy Burpee, Co-Chair of the Tri-Cities Homelessness and Housing Task Group.  Concerned residents came out to hear what the members of the panel had to say.  It was an informative evening and we heard stories from an array of Coquitlam residents expressing grave concerns about the lack of affordable housing in our community both for rent and for purchase.
Fireside Chat for Seniors
I hosted a Seniors Fireside Chat at Dogwood Pavilion and heard stories about the lack of support resources for senior caregivers when they care for an aging spouse.  I heard concerns about the increasing costs of living when subsisting on a fixed income.  I also heard about the significant role that seniors' centres play in the lives of the older adults in our community.
---
Education    

This month I was invited to speak to a grade 10 Social Studies class at Dr. Charles Best Secondary as part of an orientation to their unit on government.   The students asked the most amazing questions.  They were curious about the role government plays in their everyday lives and they wanted to know what it was like to be their Coquitlam-Maillardville representative in Victoria.
---
Small Business


I also had the opportunity to join hundreds of others in attending the Tri-Cities Chamber 2016 Business Showcase celebrating and promoting the many amazing businesses in our community.  Congratulations to the Tri-Cities Chamber of Commerce for an outstanding event that brought the local business community together to promote their products and services.
---
In the Legislature


This time of year your MLAs are usually busy in Victoria with the Fall session of the legislature.  Unfortunately, although this is a critical part of our job as MLAs and legislators, the Premier cancelled the Fall sitting.
My work, however, continues and I will be spending this time in my office and out in my community meeting with constituents, businesses, students and other stakeholders.
I look forward to seeing you at one of the many community events around town or please come by my office to say hello.
---
---
Upcoming
Brunette Overpass Project: Open House                             

If you're a commuter I suspect you have some thoughts on the challenges with the Brunette Overpass so here's your chance to share your thoughts directly with the Ministry of Transportation.  I have certainly heard concerns from residents and I will be in attendance – I hope to see you there.
Wednesday, November 2, 2016 5:00 pm to 8:00 pm
Maillard Middle School 1300 Rochester Ave, Coquitlam
---

Remembrance Day Ceremonies
Be sure to join the Royal Canadian Legion at the Remembrance Day Ceremonies this year.  I believe it's important that we continue to honour the sacrifices that our veterans and enlisted personnel have made and continue to make on behalf of all Canadians.
 Royal Canadian Legion Branch 263 (Coquitlam)
Friday, November 11,  2016
9:30 am – Ceremony Begins
Como Lake Middle School
1121 King Albert Ave, Coquitlam
10:40 am – March from school along Winslow to Cenotaph
Veterans Way at Blue Mountain Park
Until next time,
Selina
---
Community Events:
Thursday, December 8, 2016
4:30 pm to 7:00 pm
Selina Robinson, MLA
Constituency Office
102-1108 Austin Ave, Coquitlam
---
Golden Snowlotus Awards CEA International Film Festival
November 1st  to 6th
Nov. 1st: Opening
5:00 pm Registration
Evergreen Cultural Centre
1205 Pinetree Way, Coquitlam
---
No-Tech Healthcare Hackathon
A Community Dialogue
Wednesday, November 2, 2016
Coquitlam Public Library
City Centre Branch
1169 Pinetree Way, CoquitlamA community dialogue on troubleshooting our healthcare system.
---
Friday, November 4, 2016
7:00 pm to 9:30 pmWestwood Plateau Golf Club
3251 Plateau Blvd, Coquitlam
---
Coquitlam's 150th Celebration Garden Planting
Sunday, November 6, 2016
10:00 am to 12:00 pm
Blue Mountain Park (meet at the corner of King Albert Way & Porter St.)The community is invited to join the Coquitlam Park Spark Team who is partnering with the 13th Eagle Mountain Guides & 10th Coquitlam Beaver & Cub Scouts to plant 1,000 tulip bulbs in celebration of Canada's 150th anniversary in 2017.
---
---
Saturday, November 19, 2016
6:00 pm to 11:30 pm
Hard Rock Casino
2080 United Blvd., Coquitlam
Crossroads Hospice Society's 23rd Annual Fundraising Gala.
---
Saturday, November 26, 2016
2:00 pm to 5:30 pm
Town Centre Park & Evergreen Cultural Centre
Free Admission
Coquitlam's annual Christmas light display.
---
Friday, December 2, 2016
5:00 pm to 9:00 pm
Saturday, December 3, 2016
10:00 am to 4:00 pm
Sunday, December 4, 2016
10:00 am to 4:00 pm
Poirier Forum
618 Poirier St, Coquitlam
Adults: $3 | Seniors: $2
Children 12 & under Free