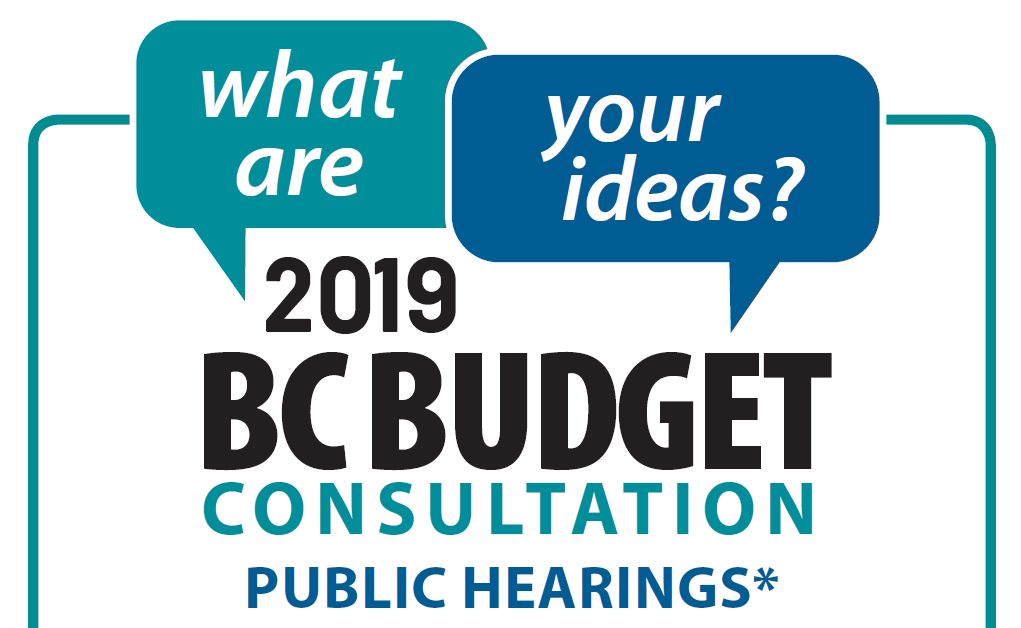 The Select Standing Committee on Finance holds a public consultation on the upcoming provincial budget every fall. From mid-September to mid-October, British Columbians are invited to share their thoughts, ideas and priorities. The Committee reviews all the input received to make recommendations to the Legislative Assembly for the next provincial budget.
How to Participate:
Meet with the Committee at a public hearing
The Committee holds public hearings throughout the province to meet with individuals and organizations in person. Online registration for public hearings opens September 7 at 9:00 a.m.
Public hearings will be held in the following communities:
Dawson Creek (September 17)
Prince George (September 18)
Smithers (September 18)
Masset (September 19)
Campbell River (September 20)
Vancouver (September 24)
Cranbrook (September 25)
Trail (September 25)
Nelson (September 26)
Kamloops (September 26)
Kelowna (September 27)
Esquimalt (October 9)
Mission (October 10)
Surrey (October 11)
*Schedule subject to change
British Columbians can also request teleconference opportunities by calling the Parliamentary Committees Office at 250-356-2933 (or toll-free in B.C.: 1-877-428-8337) beginning on Friday, September 7 at 9:00 a.m. Open mic opportunities are also available at each public hearing.
For Information on what to expect at a public hearing, visit the Share Your Views page.
Provide written, audio or video comments:
The opportunity to make a written, audio, or video submission and the online survey will be available beginning on Monday, September 17.
Individuals and organizations providing input may wish to use the suggested template for written submissions.
Fill out a survey
The budget consultation paper includes questions about key issues which you can respond to through an online survey, beginning September 17.
Please note: The deadline for all input is Monday, October 15, at 5:00 p.m.
Further information on the work of the Committee is available on the Committee's website: www.leg.bc.ca/cmt/finance.