Provincial 
BC Government Ministries and Organizations: Website Link
BC Vital Statistics  – Find information to help you register and order certificates for vital events, such as a birth, death or marriage. This website also includes specific information and annual reports on the vital events and the health of British Columbians.
Service BC  – Service BC provides front line support for many of the programs and services the provincial government offers to residents, businesses and visitors. Enquiry BC can help you find what you need.
Enquiry BC  – 604-660-2421 Connect toll-free to any BC government ministry
Public Engagement Opportunities: govTogetherBC
Explore open engagement opportunities, look at results of past projects, find out how public engagement is collected and add your voice to the conversation.
Find your Member of the Legislative Assembly 
---
Federal
Bonita Zarrillo, MP – Port Moody-Coquitlam (Anmore and Belcarra)
Phone: 604-664-9229 | Email: Bonita.Zarrillo@parl.gc.ca
Ron McKinnon, MP – Coquitlam-Port Coquitlam
Phone: 604-927-1080 | Email: Ron.McKinnon@parl.gc.ca
Your Member of Parliament can help you navigate through and resolve issues that involve federal government programs and services such as immigration, Employment Insurance and income tax disputes.
Find your Member of Parliament
---
Municipal
City of Coquitlam
3000 Guildford Way | Coquitlam, BC | V3B 7N2
Reception: 604-927-3000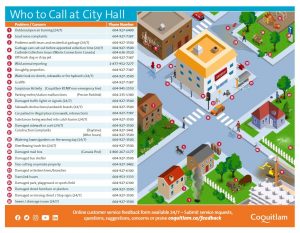 City of Port Coquitlam
2580 Shaughnessy Street | Port Coquitlam, BC | V3C 2A8
Phone: 604-927-5411
City of Port Moody
100 Newport Drive | Port Moody, BC | V3H 5C3
Phone: 604-469-4500
Village of Anmore
2697 Sunnyside Road | Anmore, BC | V3H 5G9
Phone: 604-469-9877
Village of Belcarra
4084 Bedwell Bay Road | Belcarra, BC | V3H 4P8
Phone: 604-937-4100
---
First Nations
Kwikwetlem First Nation
2-65 Colony Farm Road | Coquitlam, BC | V3C 5X9
Clicking these links will take you out of Selina Robinson's constituency website. Selina Robinson, MLA, is not responsible for the content or reliability of external linked websites and does not endorse the views expressed within them.